Web tools
Macromedia Flash player
Over 98% over internet users use Macromedia Flash Player. It allows you to access the conferences and interviews of experts on our website.
---
Acrobat Reader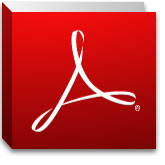 Adobe® Acrobat® Reader™, freeware that is used to look at and print PDF (Portable Document Format) files. Acrobat Reader also allows you to fill out and send electronic PDF files online.
---
Firefox
Firefox is a fast-rising web browser; successor to Netscape, this browser was developed by the non-profit Mozilla Foundation and offers many advantages as an alternative to Internet Explorer.
- strict observance of current norms and procedures
- Multi-platform (Windows, Mac OSX, Linux, …)
- Less susceptible to virus attacks
- Quicker with an ergonomic design (tab browsing, facilities for managing the printing of web pages, …)
---
Google Chrome
Free. Installed in the blink of an eye
For Windows XP, Windows Vista and Windows 7
Quick start up
Google Chrome starts up at lightning speed
Quick downloading speed
Google Chrome loads your pages within an instant
Quick and efficient search engines
Carries out searches on the web directly from the address bar.